Introducing New Long-term ECG Monitoring Technology. Wearable for up to 30 days or more!
Heritage Radiology is your connection for the latest in wearable ECG monitoring systems. Here are the newest products we now carry:
Hemodynamics EZecg Wearable ECG Monitor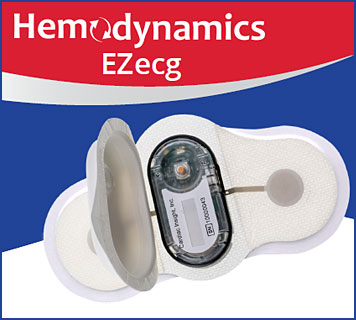 Hemodynamics EZecg wearable ECG monitor is clinically proven to enhance diagnostic yield over traditional 24 Holter monitoring while significantly improving patient compliance. Replace traditional holter monitoring with an EASY multi-day wearable patch. Now get 7 days or less to diagnosis.
Here are the benefits of EZecg Wearable Patch:
PATIENT HOOK UP - Simplify patient hook up with EZecg lead-less wearable ECG patch.
IMPROVE PATIENT EXPERIENCE - No lead wires, water-resistant, superior patient comfort (increases patient compliance).
ECONOMIC BENEFITS - No equipment costs, no maintenance costs, no electrodes, no batteries. Multiple billing codes.
STREAMLINE OFFICE OPERATIONS - Reduce staff load by up to 85%, reduce hook up time, eliminate time for ECG analysis.
AUTOMATIC PICK UP - Eliminate costly download and time for staff to perform ECG analysis.
INTUITIVE REPORTING - Physician interpretation made easy with clinically comprehensive ECG reports.
Nuubo Wearable ECG®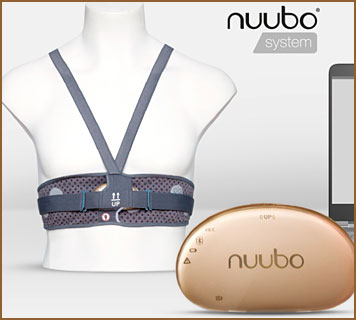 Nuubo offers a mid/long-term ECG monitoring system, complete and efficient. The textile electrode technology developed by Nuubo greatly simplifies the complicated traditional methods of connecting electrodes, reducing them to the basic act of wearing a vest.
Here are the benefits of Nuubo Wearable ECG®
Wearable for up to 30 days
Excellent aECG signal quality
Excellent patient compliance
3 adult sizes and pediatric specific design
Washable
aECG electrodes 3D printed into wearable textile
Flexible elastic and stretchable conductive tracks
Elastic fabric in both axes
Heritage Radiology Wants To Work With You and Your Team
---
Download Product Flyers

For more information about our company, please download any of these PDF documents.
Request Information

Very Professional!
"Very professional and nice company to work with."
Eldad Tor
Medical Trade Center