Omniscop DReam 30- RK20 Version 2
The Omniscop DReam 30- Rk20 Version 2 consists in two main parts:
The C-Arm with a highly accurate mechanical design allowed for a creative combination of low weight and a high power X-ray generator, producing an extremely compact, reliable and ergonomic mobile system
The view-Station with its open and light structure for easy positioning and transport associated with two medical displays
Comes with Standard 2 Year Warranty Parts/1 Year Labor • Nationwide Service • East and West Coast Parts Depot • 30 Years of C-Arm Industry Software Development
Omniscop DReam
Omniscop DReam is an ideal system for ER, OR, ICU, surgical imaging or interventional setting.
These systems can be configured with either 21×21 or 30×30 cm Flat Panel Detector.
Omniscop DReam can be configured from 5 to 20Kw generator, as a large double 22" touch screen and a dedicated 12'' color touch screen control panel.
Omniscop DReam fits a full range of procedures: surgery, traumatology, orthopedics, thorax, abdomen, vascular and cardiac.
Applications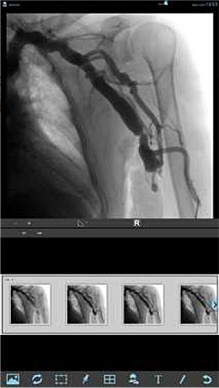 The Omniscop DReam 30-RK20 is a system that provides excellence image quality and maneuverability, which are essential to a wide range of surgical and vascular procedures.
ORTHOPAEDIC
NEUROSURGERY
THORAX
ABDOMEN
VASCULAR PERIPHERAL
VASCULAR ABDOMINAL
VASCULAR CEREBRAL
CARDIAC
PAIN TREATMENT
---
Main Features
Flat Panel with very high sensitivity, low dose operation (154 µm)
Height & Angle adjustable of 21.5" Full HD wide displays
Removable grid for pediatric applications
Full touch "smart" user interface
Extended C-arm free space
Image free of distortion
Double pedals
Heritage Radiology Wants To Work With You and Your Team
---
Product Brochure

For more information about this product, please download our product brochure.
Request Information

Very Professional!
"Very professional and nice company to work with."
Eldad Tor
Medical Trade Center